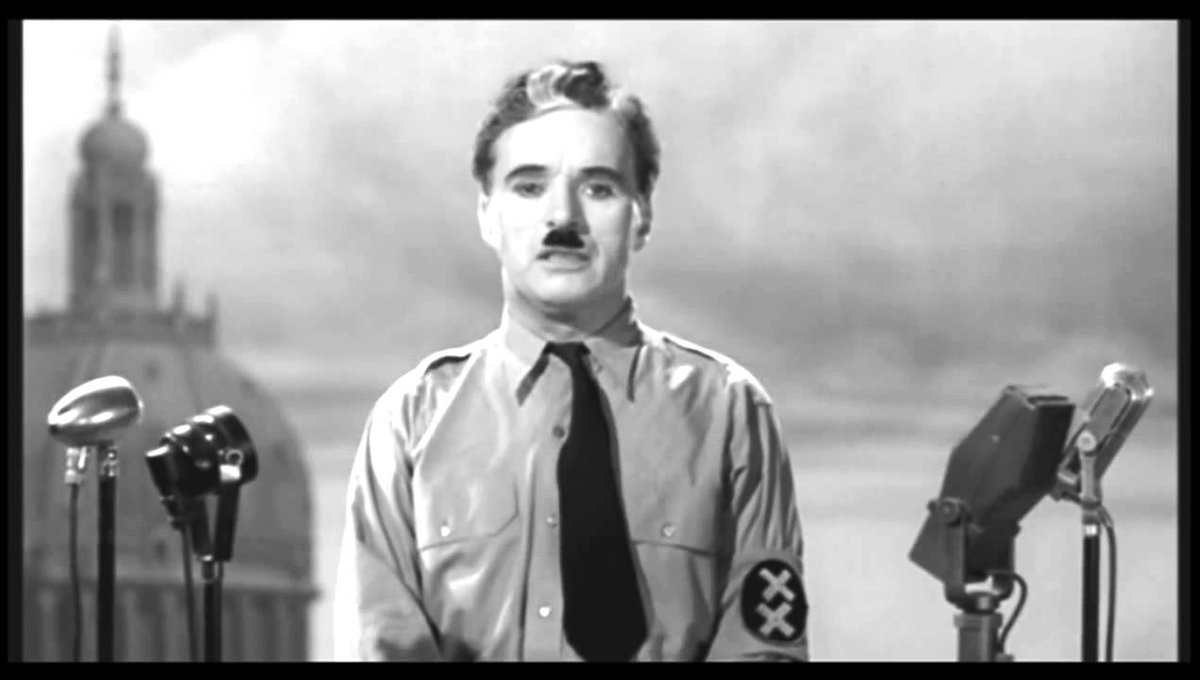 One of the most inspirational speeches I've ever heard is from a movie many have never seen.
The classics of the old are slowly fading away.
Ensuring the wisdom of the past carries on is part of our generational duty.
It's less than 5 minutes and packed with power.
It's called the "Last Speech" from the movie the Dictator with Charlie Chaplin.
The film is a classic.
Chaplin plays his first dialogue-based role, and he plays two characters.
One a poor barber and another the dictator.
In this scene, the barber is mistaken for the dictator and gives this speech instead of the dictator.
You will most likely be very surprised if you haven't heard this before.
It's still relevant today.
Take a listen:
One of the most telling aspects of his speech I enjoy is the combination of faith and science-based points.
He starts by sharing the good nature of mankind and the vision he has.
"The way of life can be free and beautiful, but we have lost the way."
Then moves into painful truths.
"We have developed speed, but we have shut ourselves in.
Machinery that gives abundance has left us in want.
Our knowledge has made us cynical.
Our cleverness, hard and unkind.
We think too much and feel too little."
He counters with the need for more humanity.
"More than machinery, we need humanity.
More than cleverness, we need kindness and gentleness.
Without these qualities, life will be violent and all will be lost…"
He shares his vision for the brotherhood of humanity.
"The airplane and the radio have brought us closer together.
The very nature of these inventions cries out for the goodness in men – cries out for universal brotherhood – for the unity of us all."
He is calling humanity forward.
The words don't do it justice, either.
The force and power he carries with his belief are palpable.
This type of conviction is what we need in our world today.
People who are willing to dedicate their lives to the betterment of humanity.
There are beautiful works of art throughout history like this.
Messages that speak to our higher calling and remind us of the expansive universe we exist within.
The world is a wonderful place.
So much bounty and abundance.
It's easy to forget this.
Art, music, fiction, engineering, poetry, science, medicine, and expression are reminders of this incredible heritage we all carry within us.
Our ability to create shows us our nature.
So much of life on Earth is remembering what we've forgotten.
Remembering who we are.
These moments are made to remind us of who we are.
It stirs something deep in our souls.
Life is mysterious and calls us forward.
This speech exemplifies this cosmic journey we find ourselves on.
The call for being whole humans.
For too long, we've lived in extremes.
The time to live as whole beings is now.
Faith and science are not mutually exclusive.
Art and engineering are two sides of the same coin.
Being strong and compassionate is possible.
It's our nature!
We must aim to be complete beings.
Strive to fulfill our potential.
One of my goals is to build a collection of human inspiration and excellence.
To remind us of what's possible.
This is the flame of Eternity that was lit long ago, and our task is to ensure it carries on.
This speech can be fuel when you need it.
Use its wisdom!
What do you think?
Have you heard this speech before?
What uplifts your soul?
Originally tweeted by Brandon Ward 🇺🇲 (@BrandonLeeWard) on October 31, 2022.